I bought this motorcycle via Craigslist in the spring of 2011.  As my first motorcycle it was a poor choice to learn on but I loved it.  Simon and Parker came with me to look at it, Parker to test drive it and Simon for his people skills.  I remember the ridiculously loud exhaust that we could hear as Parker accelerated down a street while out of sight.  For $1500 followed Parker back to my apartment garage where he parked it and I waited for warmer weather to try it out.
Spring seemed to take its time that year.  Simon also had a new motorcycle (Yamaha FZ6R) and would want to go riding on cold days...once or twice he was able to talk me into it.  On one occasion we went through an underpass that appeared to still have ice under it, which was terrifying.  Maybe the 5th or 6th day that we went out we switched rides in a parking lot and each of us were really surprised by the differences between our bikes' handling.  Simon's was like a bicycle, so easy to maneuver around at low speed and it was second nature to make small correcting movements.  Mine loved to go straight and any low speed turning took full mental effort to coordinate.  I have read that a worn part in the steering column (a bushing maybe?) can cause things like this so I have a hunch that this is not completely an issue with the geometry of the steering.  It is still very drive-able so I have not yet looked into that.
We rode to Bismarck towards the end of June I think, to complete the MSF safety course to convert our learner's permits to license endorsements.  I had 1,500 miles of experience at that time.  The little bikes that they had us use were yet another interesting contrast as they had very loose gearboxes.  When I rode my CBR home at the end of the day that gearbox had a wildly shorter throw and seemed so precise in its movements.
Not much comes to mind for long trips that I have taken this motorcycle on.  I went to a funeral in Adams, ND for a night.
I have done a few significant maintenance things on it.  The chain wore out (links were sticking so bad that I had to stop at a farmhouse near Hawley to get some oil) so I replaced that and decided to go a little crazy.  So I got a blue chain and replaced the rear sprocket with a blue anodized aluminum part.  I also replaced the front sprocket at that time.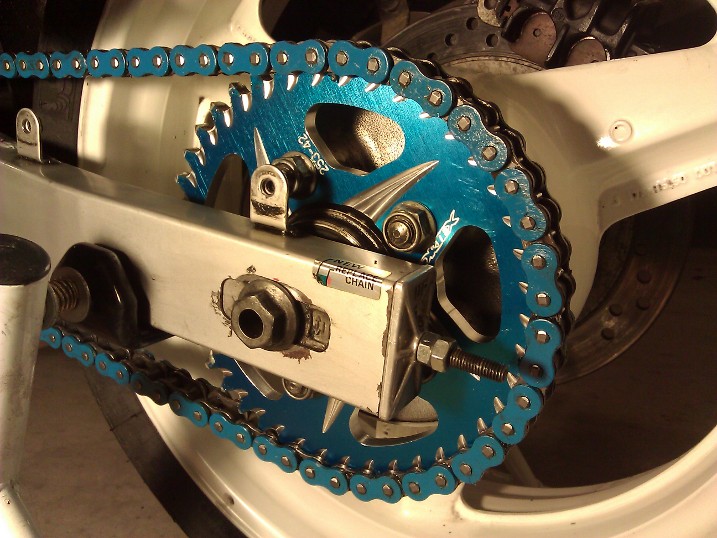 The clutch started slipping--I think maybe I did my first oil change with regular car oil which has "friction modifiers" in it that will modify the friction in the clutch to be too low.  So I ordered new clutch plates and installed those.  When installing the clutch plate bolts I used a huge torque wrench for bolts that needed a small amount of torque so broke off a bolt.  Then I broke off a bolt extractor, mainly because I did not use a left-hand thread drill bit to drill the hole for the bolt extractor, so the bolt remains went further in while I was drilling that hole and left metal shards in the threads that they remains would need to be backed out of.  So I ended up replacing the clutch basket.  The following picture shows the messed up bolt hole in the top left.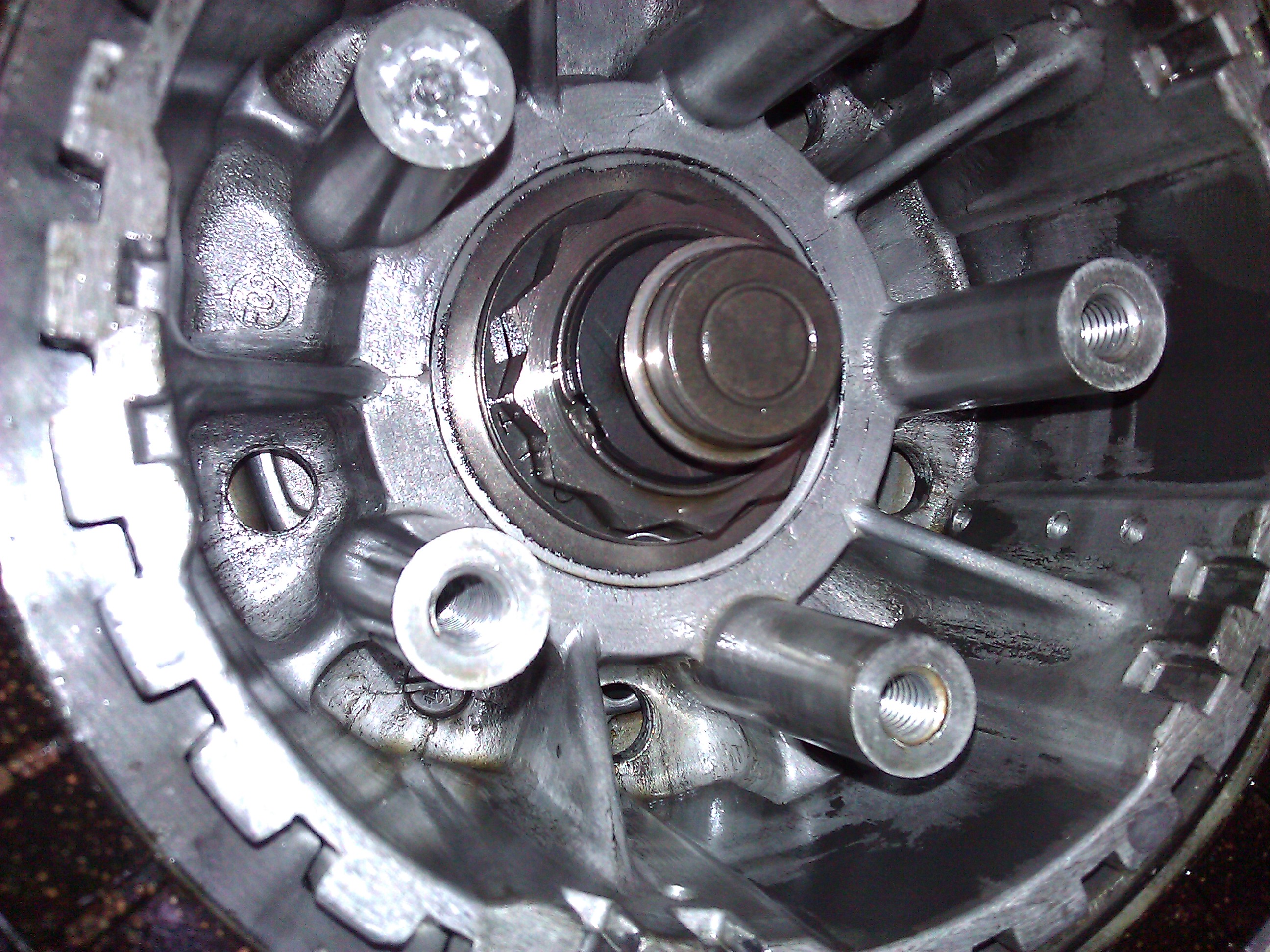 The carburetors have often leaked gas.  A float must be sticky or something.  With frequent riding the issue goes away so it ultimately goes unfixed.
Once when I was on the frontage road near Christine, ND (maybe in 2012?) all of a sudden I had warm antifreeze all over my right pants leg.  I parked the bike there for the night in a guy's front yard and went back the next day to pick it up.  A three-way plastic fitting in the coolant system had blown apart as they are known to do.  Jason hauled the bike back to Fargo in his pickup the next day and I was able to replace the part.
Around 2015 (maybe) I had the fork seals replaced as one of them started leaking oil all over the place.