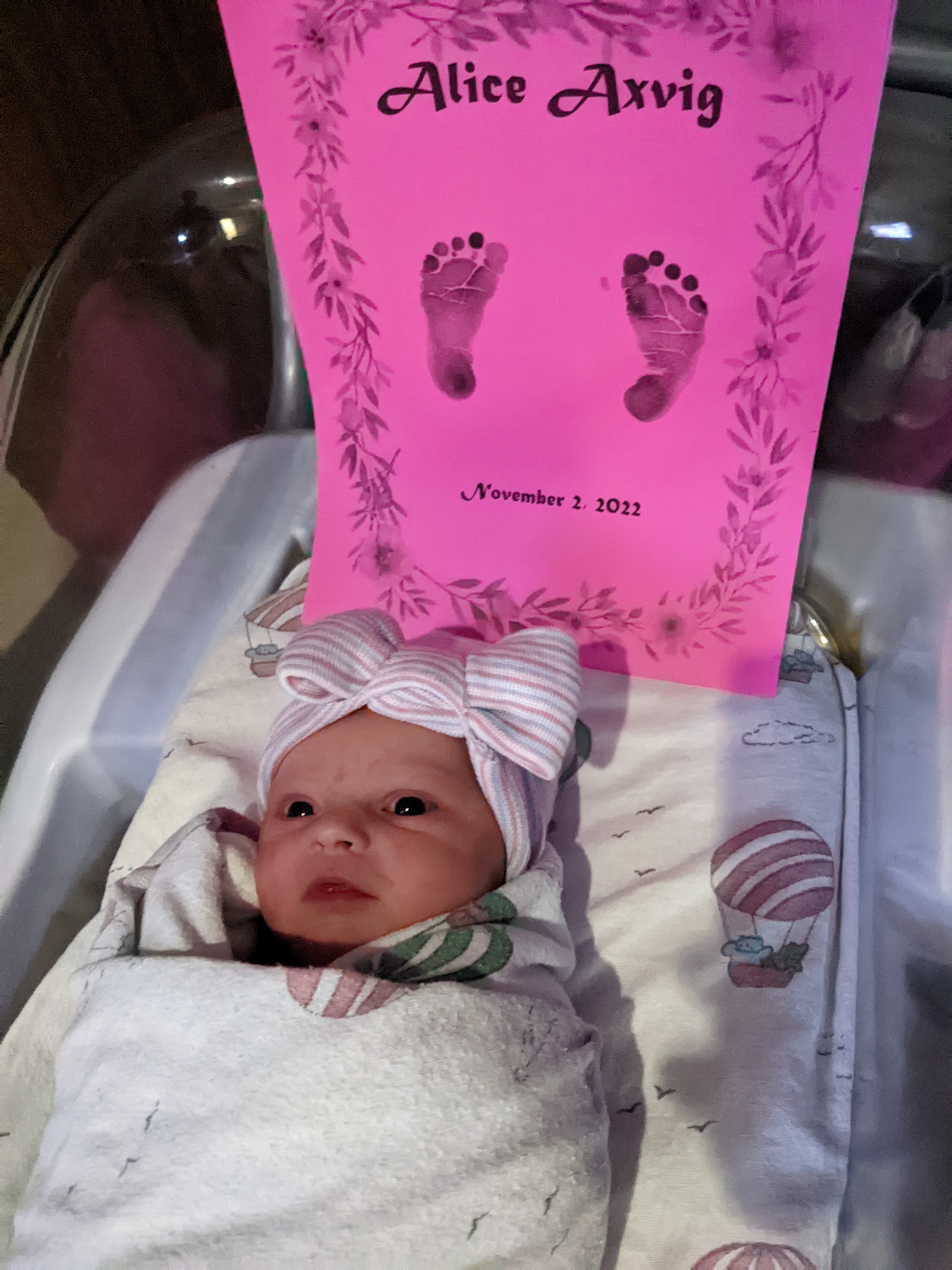 My mom has not asked for me to write up a Christmas card section yet but I thought I would anyways.
We had a great time at our wedding to start out 2022!  I think most of January was just recovering from wedding things.  Anna stayed busy at home babysitting niece Brita and family friends' baby Roxy.
In February we went on a ski trip to Red Lodge.  And we found out we were pregnant, due November 9th.  Anna soon started working on tearing out the old carpet in the room which would be the future nursery.  I made several batches of deer jerky in our new dehydrator.  We went to a few concerts--Winger + Firehouse and Buckcherry + Alice Cooper.  I went to St. Louise and Cedar Rapids for work.
We went to the daylily society's spring auction of daylily plants and got seven new varieties.  People go crazy for some of them!  We enjoyed seeing the new flower types bloom later in the summer.  And our trees and other landscaping is coming along nicely.  A couple pepper plants grew large and produced a lot.  Our neighbor seemed to have a bottomless supply of cucumbers to leave for us.
We camped in Stanton with parents and sibling for Memorial Day.  Friends Jason and Bobbie visited for July 4th and we had a really good time.
Lots of home improvement activities again.  In winter, Aaron worked quite a bit on the basement.  New flooring and lighting really improved the feeling of the space and then he set up all sorts of desks and computer things.  He built a custom fit server rack under the stairs to hold equipment too.  Early in the spring Aaron and Randy spent a lot of time finishing the inside of the detached garage.  With pine carsiding walls, white metal ceiling, and lots of lights, it was a great improvement.  In early summer Aaron worked hard on the porch columns and roof, getting it closed in by July, painted by many helpful parents and siblings in August, and various other details until essentially complete in November.  September saw two weeks of activity as we hired the install of an air conditioning system.  We were able to use it for one hot day!  And squeezed in Aug-Oct Aaron gutted the nursery of plaster and lathe, insulated and sheetrocked, and trimmed it out.  Not quite done when baby arrived, but close enough!  And finally, all 400 feet of fence got painted over the course of the summer…little by little by little.
Alice Magdalena arrived a few days early on November 2nd, weighing 6 pounds 5 ounces.  She has been keeping us busy every since, healthy and growing, nearing 9.5 pounds for Christmas.  We spent a week in mid-December in Arizona so several relatives there could meet her and so we could escape winter for a bit.